A
RT
I don't have much art yet, but you may have noticed this: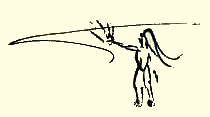 That's a little doodle I drew long ago, and over the years it has become a symbol of what The Curious Tale means to me. It's so simplistic, so minimal, but that leaves room for it to occupy a great space in my imagination, and, even though it's just a little doodle, it has become dear to me even so.
Eventually I plan to add a great deal of art to this site—mostly from other artist, but maybe the occasional doodle of my own—and you'll be able to come here to see it all in one place. Stay tuned!
O day and night, but this is wondrous strange!